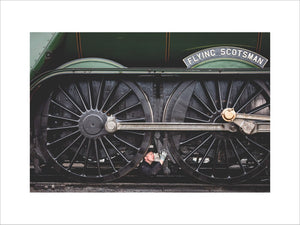 © Steve Morgan / National Railway Museum / Science & Society Picture Library -- All rights reserved.
Product details
Description
Engineers from Riley & Son (E) prepare the National Railway Museum's Flying Scotsman for overhaul at East Lancs Railway in Bury, ahead of the locomotive's historic centenary in 2023. Photography commissioned by photographer Steve Morgan in March 2022.
LNER 4-6-2 No. 60103 'Flying Scotsman' locomotive heading into overhaul.