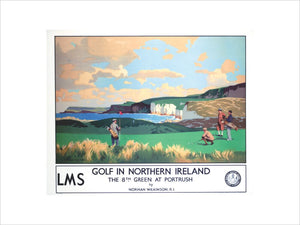 © National Railway Museum / Science & Society Picture Library -- All rights reserved.
Product details
Description
Poster produced for the London Midland & Scottish Railway (LMS) to promote rail links to Portrush, County Antrim, Northern Ireland, showing a view of the golf course. This is one of a series of posters commissioned to illustrate the many different sports and pastimes that could be enjoyed within the area covered by the LMS. Artwork by Norman Wilkinson, who studied art at Portsmouth and Southsea Schools of Art. A famous marine painter, he designed posters for the London & North Western Railway (LNWR), the London & Midlands Railway (LMR) and Southern Railway (SR) and organised the Royal Academy series of posters for the LMR in 1924. Dimensions: 1016 mm x 1270 mm.
'Golf in Northern Ireland', LMS poster, c 1925.